on some non-criterion criterion stuff, this months gq has a photo essay on the definitive women of film. mentioned honorably are criterion faves like jean luc-godard's one time wifey, anna karina, aka shorty from
band of outsiders
, that sexy ass bowler toting dimepiece from the barely bearable
unbearable lightness of being
, and the woman who i once bedded in my former life as a a whiskey swigging, drug abusing stagehand for the stones in swingin' 60's london-
julie christie
. it is well worth a looksie.
not to be overlooked, we here at the tcp have put together our own list of criterion hotties for your consideration in no particular order of smashability:
5. sissy spacek,
3 women
there's something sexy about scary women. not in the campy elvyra kind of way but in that penetrating sissy spacek gaze kind of way.
5a.
sweetie
i'm a man who appreciates a nice porterhouse of a woman. i also find mental instability more than a little attractive. sweetie fulfills all these pre-reqs.
4. paola pitagora,
fists in the pocket
she looks like barbara streisand, who i do not find attractive and sophia coppola who reminds me of a young barbara streisand. therefore, i now find barbara streisand attractive. this pic does little to illustrate my point but she's fly nonetheless.
3.aboriginal women,
walkabout
.
getting lost in the outback has never been sexier.
2. susan george,
straw dogs
(solving world peace in her head, up top)
sex crimes portrayed on film can be awkward. it's even more awkward when the girl in question is a susan george caliber dime brizzle. you have to remind yourself that at least you're not into anime porn- that would definitely be worse, right?
1. olivia d'abo,
kicking & screaming
as a tike, formulating what would be a future of perceptions of what women should and shouldn't be, her character on the wonder years was the prototype. i hug-pounded my pre-pubescent self when she came on screen in kicking & screaming. he didn't know how to receive the hug pound and head-bunted me in the scrotes. the older me needed that.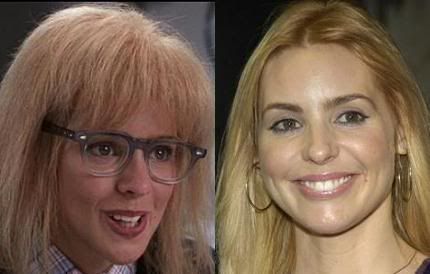 so that's our list. let the debating begin or whatever.